Wyoming mountain recreation at its best...guided Wyoming fishing trips, guided hunting trips, cabin lodging, fine dining, hiking, sightseeing, photography and much more in the beautiful Big Horn Mountains and Bighorn National Forest of northern Wyoming.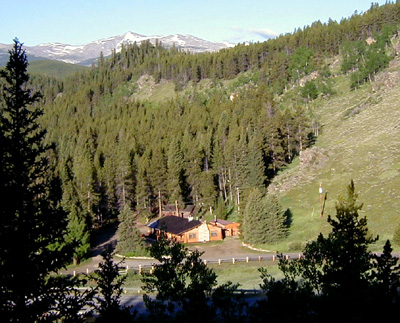 South Fork Mountain Lodge & Outfitters, located just 16 miles west of Buffalo, Wyoming, has everything you need for an exciting Wyoming mountain vacation, Wyoming fishing trip, hunting trip, or other outdoor recreational experience, all in view of the beautiful Big Horn Mountains of North Central Wyoming. Situated in the Bighorn National Forest, South Fork Mountain Lodge provides visitors with access to more than a million acres of public lands, including the Cloud Peak Wilderness Area. 


HIGH ALTITUDE MOUNTAIN ADVENTURES
Nestled along the South Fork of Clear Creek at an elevation of 7,700 feet, visitors can experience a variety of alpine environments to explore and to suit almost any taste! Mountain trail hiking around South Fork is some of the most spectacular you'll ever experience. Lakes, streams, forest, beautiful mountain peaks, scenery, and abundant wildlife all provide an incredible playground for the outdoor enthusiast. Colorful wildflowers cover the mountain parks in the spring and early summer and photographic opportunities are endless.


Your hosts, Wayne & Holli Jones

Owners, Wayne & Holli look forward to making your Big Horn Mountain adventure memorable! Contact us for reservations!


GUIDED FISHING TRIPS
South Fork provides expert guided fishing trips for the angler or fly fishing enthusiast or you can go fishing on your own. The Big Horn Mountains and Bighorn National Forest region has over 200 lakes and endless streams. Trout fishing is a favorite of many of our guests.


HUNTING
Guide and Outfitter services are also provided for hunters who obtain a Wyoming hunting license for mule deer, moose or elk. Our cabins and lodge provide a great base camp for those hunting in the Buffalo, Wyoming area of the Bighorn National Forest.


HORSEBACK RIDES & PACK TRIPS
Wyoming mountain horseback riding is also a favorite of our guests. 2 hr rides are available.  Pack trips and drop camps are also provided for those who wish to enjoy a true wilderness experience in the Cloud Peak Wilderness Area. Both small and large groups are accommodated here at South Fork.


DINING & CATERING
Enjoy fine dining in the beautiful South Fork Lodge, serving breakfast, lunch and dinner, and relax for a drink in our lounge. The lodge has a front porch for relaxing and taking in the clean mountain air. We also have an outdoor area for picnics and a pond for trout fishing. Catering services are also provided for weddings and other groups.


RUSTIC CABINS / LODGING
Our rustic cabins provide relaxing mountain lodging. Many of our cabins are nestled along the South Fork of Clear Creek. We have entertainment and lodging packages available. Call us for more details or to help plan your special visit or event.


HIKING & BACKPACKING
South Fork Mountain Lodge also provides a great base location for hiking and backpacking. Within minutes of the lodge the hiker is confronted with a spectacular view of the highest peaks of the Bighorn Mountains.


NEAR YELLOWSTONE PARK & THE BLACK HILLS
South Fork Mountain Lodge is less than a day's travel from both the Black Hills and Yellowstone National Park. Come visit us and have a true mountain experience that you will long remember.


WILDLIFE VIEWING & PHOTOGRAPHY
Experience a memorable mountain adventure during your stay at South Fork Mountain Lodge. Native wildlife, including moose, elk, deer and antelope are often seen from the roadways and trails. Opportunities to see these animals up close increase if you take our guided horseback tours, pack trips or drop camps into the more remote mountain areas. If you are interested in big game hunting, the season extends from September 1 through December. For more information on hunting in this area, click here. We have Wyoming's best guides and outfitters!


CROSS COUNTRY SKIING & SNOWMOBILING
In the winter months at South Fork Mountain Lodge, you can enjoy wonderful cross country skiing. Step out of your cabin door and onto the South Fork Cross Country Ski Trails System. The trail system includes marked and groomed trails as well as backcountry trails for the more adventuresome.
The trails are open to the public and there is no trail fee. Strike out on your cross country skis or snowshoes into the Cloud Peak Wilderness Area and experience winter camping and mountaineering at its finest. Or stay home with us and take a moonlight ski under the stars.
You can snowmobile right to the door of our lodge.
There are also newly-marked and groomed snow machine trails within minutes of the Lodge. These trails are maintained by the local snow machine club and the Wyoming Recreation Commission.
Let South Fork Mountain Lodge make your Wyoming winter vacation easy and worry-free. We will be glad to plan your entire trip for you. For your added convenience, we offer customized packages which include lodging, meals, snow machine rental and tours.
South Fork Mountain Lodge & Outfitters is operated under special use permit issued by the USDA Forest Service.
WYOMING OUTFITTER #BG352
We are an equal opportunity provider.