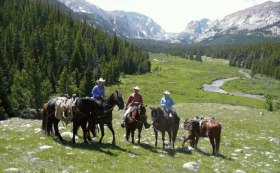 South Fork Mountain Lodge offers horseback riding & mountain trail riding!
Young and old can enjoy the true beauty and magic of Wyoming's Big Horn Mountains and Bighorn National Forest on horseback. We offer hourly and daily rides from our corrals at South Fork Mountain Lodge. We also provide fully-outfitted pack or drop camp trips into the Cloud Peak Wilderness Area of the Bighorn National Forest.
Our licensed, experienced guides and well-trained horses will take you on a beautiful horseback tour that you will long remember. There is always spectacular scenery and wildlife viewing, so be sure to bring your camera! Many of our visitors say that their trail ride was the highlight of their entire vacation.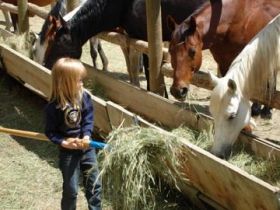 If you are interested in horseback riding on longer trips and overnight stays in the wilderness area, see our pack trips & drop camps page for more information on those services. 
Experience the beautiful Big Horn Mountains and Bighorn National Forest in true western style!
Come saddle up with us at the South Fork Mountain Corrals!
Horseback Ride Rates*
$ 125.00 per person - Two Hour Ride
$ 300.00 per person - Four Hour Ride and includes Lunch 
Summer Horseback riding available June through beginning of September
Pack Trip / Fishing Trip Rates*
$500.00 per person, per day (includes horse, food, lodging, guide and cook)
Price varies depending on the number of people in your group and the number of days booked
50% deposit required to reserve a pack trip
Available from July 1st through August 30th

* Rates shown do not include taxes.

Cancellation Policy
Horseback rides cannot be cancelled the day of the ride. If you need to cancel a horseback ride it must be done before the day of the ride.